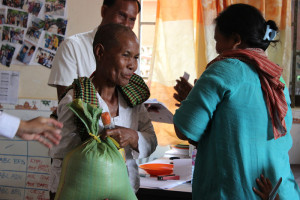 On Sunday the 6th of April we invited 50 of the villages poorest families to the school. Here we distributed 7kg of rice and a large bottle of fish sauce to each family, as well as clothing that had been donated by various donors and volunteers. With Khmer New Year just around the corner, it is a very expensive time for families as there are days of celebrations with extended family members and friends. Therefore this contribution by S.C.A.O makes an important difference, and has been very well received.
Distributing the clothes was an energetic, lively and fun filled event. Families gathered with children of various sizes as volunteers chose suitable items for the different age groups.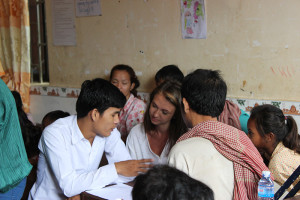 Having all of the families together was a great opportunity to find out some more information about the lives of the families, so there was also a short survey conducted at the time. The main questions included; challenges that face families in Som Roung, services they would like to see improved, their future ambitions, and information on bank loans. The aim of this survey was to build upon a previous survey completed by some of the same families, and also to take a more futuristic look into S.C.A.O and the role it plays in Som Roung.