Location and 'feel' of SCAO 3
The new school is in Prey Ponror, a village located 25km north west of the capital Phnom Penh. The hinterland of Prey Ponror consists of 16 smaller villages, which are all accessible by bike. The students travel from all over the surrounding villages to SCAO 3 and can often been seen cycling 30 or 40 mins to the SCAO school. The school consist of two class rooms, toilet/shower facilities and a teacher resource room. As the school has just been opened, the space is bright and airy with ceiling fans in each classroom. However the fresh walls are already being decorated by the wonderful art work the children offer to the teachers. The school is nestled in the countryside with local markets on its doorstep selling local produce. It is also located beside one of the most magnificent pagodas you are likely to see in Cambodia.
The Opening
SCAO 3 Opened its doors to the Prey Ponor Community on Saturday the 26th of November. We had over 300 young students attend the opening festivities. The ceremony included a blessing by the monks followed by encouraging speeches from the head of the village, the head of the school district and the Mr Smeith the CEO of SCAO. As the children were the most important invitees they each received a gift pack of copy books, pens, pencils, sweet treats and water as well as an upcoming schedule for the new school.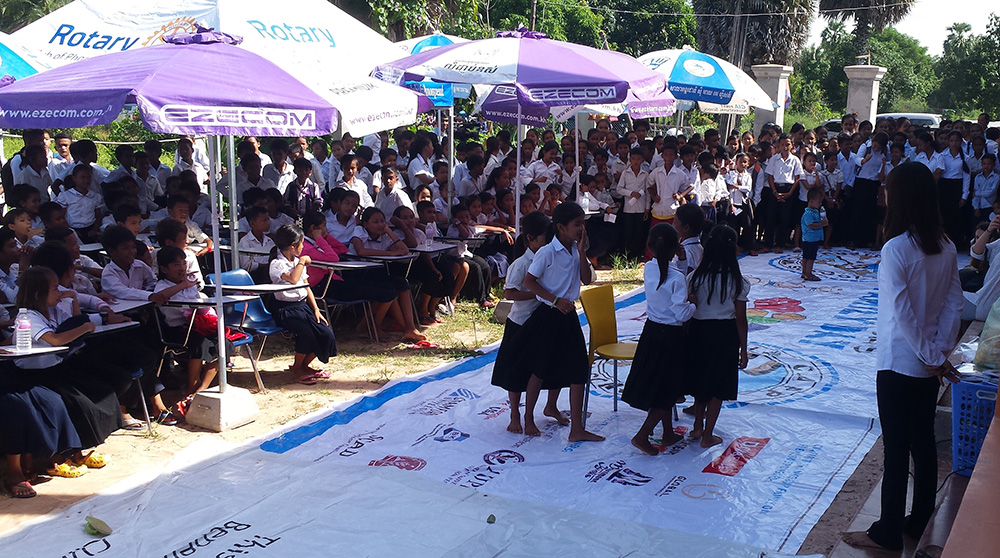 The First Few Weeks
School lessons started on Monday the 28th of November and already the school has exceeded all expectations in the first few weeks of opening. It currently facilitates and teaches over 140 students per day. To put this into context, the 3 local public schools have a total student population of around 1000. The students are aged from 4years old to 18 years old however they all have many things in common including a passion to learn, enthusiasm for the new school and lots and lots of positive spirit.
We are currently teaching five classes during the morning time from 10am until 1pm. The classes are mostly beginner level with one pre-intermediate class and we also have two Khmer teachers that help co teach the classes which really helps the teacher, the student and the volunteer get the best out of class time.
SCAO 3 Timetable
| | |
| --- | --- |
| 10am- 11am | Preschool Class aged 3-5yrs |
| 11.30am -12.15pm | ABC Beginners aged 5-10yrs |
| 12.15pm – 1pm | ABC Beginners aged 10 – 14 yrs |
| 12.15pm – 1pm | Intermediate Class 14- 18 yrs |
A Day in the Life of a Volunteer at SCAO 3
People who volunteer at SCAO 3 stay in SCAO 2. A description of staying in SCAO 2 is offered below.
At the moment volunteers travel by moto to SCAO 3 at 9.30am each morning, it takes about 25 minutes from SCAO 2 to reach SCAO 3. SCAO can also provide a return tuk-tuk if necessary. The drive is not at all unpleasant passing paddy rice fields, lakes, farms, markets stalls and students making their way to the school on bike or on foot. Teaching starts at 10am with a preschool class and classes run until 1pm. Volunteers do a quick clean, meet any new students and return to SCAO 2. The tuk tuk can stop at the market stalls to pick up fruit and veg that is not available at in the village of SCAO 2 and then you are free for the rest of the day. Often evenings are spent cooking, learning Khmer, watching movies, playing games, or cultural exchange conversation classes with advanced level students studying at SCAO 2.
Staying at SCAO 2
SCAO 2 is in Som Roung village about 18km north of Phnom Penn. Som Roung is a picturesque rural village where you will get well acquainted with Cambodian village life. The villagers are very friendly and the children will greet you enthusiastically. Very few speak English but sign language and learning a few Khmer phrases once you get here will get you far. Staying in the village means you'll experience the 'real Cambodia' which is far from the relative prosperity that you'll see in the Phnom Penh. Most children come from families who have little money and their parents are typically farmers. Way that life is simple in the village.
In your room, there'll be a bed and a mosquito net. The toilets are a mix of Cambodian and Western toilets. This means that the toilet is a normal toilet with a toilet seat, but that you scoop water from a basin behind the toilet to flush. Remember that you cannot flush toilet paper anywhere in Cambodia – their sewage system cannot handle that. The showers are normal cold-water showers. As in most of the countryside in Cambodia, internet is not readily available in the village, but SCAO 2 has made sure that there is a limited amount of internet available for the volunteers which they can use to check their emails and prepare classes.
Exploration time
Teaching only occurs weekdays and only in the morning in SCAO 3 which means there's a lot of time for exploring the area, starting your own projects and reading good books. The school has bikes which the volunteers can borrow to bike around the area, and the school also has a rooftop which offers unrivalled views of the Cambodian countryside. There are also small shops in the village where you can buy drinks, snacks and a few other things. The number of short term volunteers varies during the year so there could be anything from one to ten volunteers staying at the school. There is always at least one Head volunteer from the German Red Cross staying at the school who can always advise and help with any questions or quiries.
If you need to go to Phnom Penh or if you want to go there for the weekend, you can take a moto-remorque. This is how Cambodians typically travel between the countryside and Phnom Penh. It costs about 2000 riel and it takes about 1/1½ hours to get into the city. At the end of the weekend, you can take one back to the village as well. Have the long-term volunteers explain to you how to do it. It's simple once you know how.
To sum up, if you stay in the village you'll experience the authentic Cambodia where life is lived at a slower pace, where people are poor but always ready with a smile for you.
Volunteer Opportunities at SCAO 3.
As SCAO 3 is challenging itself not only to teach English but to expand its reach to IT classes and to explore community development projects. It working to become an educational community centre for the area which means there is a lot of scope for any volunteer to come up with a project and set it up. For example, a youth club, a football team, dance classes, music classes. SCAO 3 offers a real opportunity to develop community resources and activities that match volunteer's experiences, talents or interests.
Being a new school SCAO3 is in need of volunteers to join our progressive volunteer team, if you have any other questions please feel free to email and ask.